6 products in JEWEL bedding collection
2-in-1 cotton sateen sheets.
Our most exclusive cotton sheet and duvet program is designed in a smooth super-soft sateen weave, sheets and duvet cover are reversible with one side pale, the other side darker.
While sateen sheets typically have a clear front and back, JEWEL has two equal front sides, making it fully reversible and remarkably versatile.

About the Color and Design:
GREY is a pale grey, with traces of soft blue on one side, classic heather grey on the other.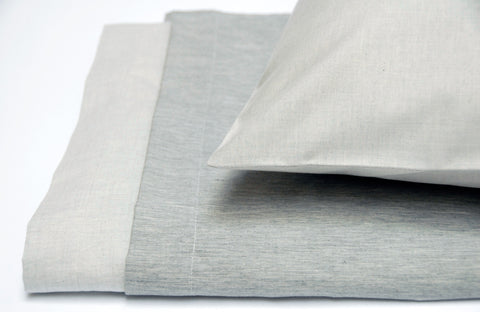 ALFRED furniture collection (1)

alpaca clothing by Anki Spets (1)

alpaca throws & decorative pillows (8)

ANTON bedding collection (6)

APRIL bedding collection (0)

BLOCKS bedding collection (6)

BRICK bedding collection (1)

BRUNO furniture collection (5)

CAMILLE bedding collection (5)

CELLMA bedding collection (2)

CLAIRE bedding collection (0)

COLIN bedding collection (2)

CURRENT bedding collection (1)

CURVE bedding collection (3)

DAISY bedding collection (1)

DIA bedding collection (1)

down ALTERNATIVE inserts (2)

duvet + pillow INSERTS (15)

EDITH bedding collection (3)

EIGHT bedding collection (1)

ELI bedding collection (6)

ELIAS bedding collection (6)

ELLEN bedding collection (4)

ELLIOT bedding collection (0)

EMILE bedding collection (3)

EMMA bedding collection (2)

EMMET bedding collection (4)

euro pillows & cases (24)

EVAN bedding collection (0)

EVERETT bedding collection (0)

FOLD bedding collection (0)

HARRY bedding collection (2)

HARVEY bedding collection (1)

HAZEL bedding collection (2)

HEATHER bedding collection (6)

HUGO bedding collection (0)

INDIA bedding collection (3)

INES bedding collection (2)

JACK bedding collection (0)

JASPER bedding collection (1)

JEWEL bedding collection (6)

JULES bedding collection (2)

JULY bedding collection (1)

KLINE bedding collection (2)

LEO bedding collection (2)

LIAM bedding collection (3)

linen clothing by Anki Spets (15)

LOUIE bedding collection (5)

LUCA bedding collection (3)

MARIE bedding collection (4)

MILES bedding collection (5)

NATURE bedding collection (2)

NILE bedding collection (0)

non-sale items auto (159)

NORTH bedding collection (0)

OLIVER bedding collection (1)

ONEWAY bedding collection (1)

OVAL bedding collection (2)

PARALLEL bedding collection (1)

PARKER bedding collection (0)

PEBBLES bedding collection (1)

PERLA bedding collection (6)

PINS bedding collection (6)

PLAY bedding collection (1)

PLEAT bedding collection (0)

RAY bedding collection (2)

RUBEN bedding collection (1)

SALLY bedding collection (1)

sateen cotton bedding (26)

shop: old world, modern (4)

SIMONE bedding collection (7)

SKYLER bedding collection (1)

SQUARES bedding collection (1)

SWEA bedding collection (5)

TAYLOR bedding collection (5)

THEO bedding collection (2)

VIENNA bedding collection (4)

VIVIENNE bedding collection (2)

WILLIAM bedding collection (1)